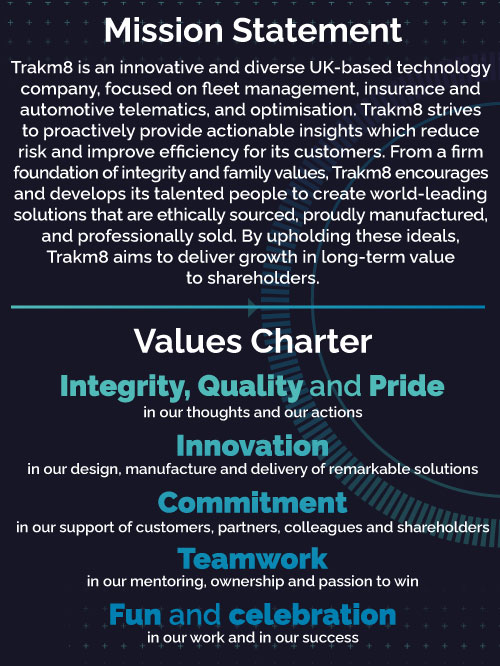 Trakm8 is the recognised leader in technology solutions for fleet management, insurance telematics, optimisation and vehicle camera systems. Trakm8's cutting edge technology offerings are adaptable for fleets of all sizes; providing intelligent, game-changing insights that can improve fleet efficiency and reduce risk across fleet operations.
Through IP owned technology, over three billion miles worth of data is collected annually. This data is developed to provide insights that are utilised to:
Create fleet management solutions to develop and fine tune algorithms used to provide insights to companies to enable them to utilise their fleet's to their full potential.
Provide insurers with propositions that score drivers in accordance to the risks in their driving behaviour, in order to calculate premiums more efficiently
Optimise vehicles. The Optimisation business unit is one of the UK's leading players in the utilisation of vehicles, goods, people and energy
Supply OEM vehicle manufacturers with a range of both aftermarket products and line-fit data solutions through its Automotive division
With the headquarters and manufacturing facility in the West Midlands, the Group supplies a number of well-known customers such as the AA, Saint Gobain, EON, Iceland, Scottish Power, Direct Line Group, Euro Car Parts, Ingenie and LexisNexis.
The Group's portfolio offers complete telematics solutions including dashboard cameras that enable customers to record driving incidents and mitigate the risk from "crash to cash" accidents. This is complemented through a comprehensive hardware range, which includes a self-install unit that is one of the smallest available on the global market. Trakm8 has been listed on the AIM market of the London Stock Exchange since 2005.