A Brief Guide to Electric Vehicle Telematics in 2023
Even the most efficient petrol and diesel engines emit high levels of harmful emissions. These are of great concern not only due to their impact on the environment but also on public health. Enter electric vehicles (EVs)—the saviours of the modern automotive industry.
EVs not only bring with them the obvious environmental and public health benefits, but they also unlock the potential for substantial cost savings in the form of various subsidies, lower maintenance and running costs, better energy tariffs, and more for commercial fleets.
At the same time and despite the overwhelming benefits of EV adoption, there are many challenges unique to today's EVs that have commercial fleet managers umming and ahhing over the prospect of electrifying their fleets. Chief among these is range anxiety—the fear of an EV's battery running flat mid-journey due to insufficient access to charging infrastructure—in addition to the higher upfront cost of commercial electric vehicles, and short-term supply chain problems such as the ongoing microchip shortage.
Although the market will correct itself over time and the cost of EVs will fall as battery technologies continue to evolve, complications such as range anxiety and general EV hesitancy may continue for both private and commercial consumers over the mid-to-long term until EVs are fully integrated into society.
For commercial fleet managers, however, a solution already exists to simplify the transition from diesel to electric and remedy challenges such as range anxiety—automotive telematics and newer, specialist electric vehicle telematics solutions.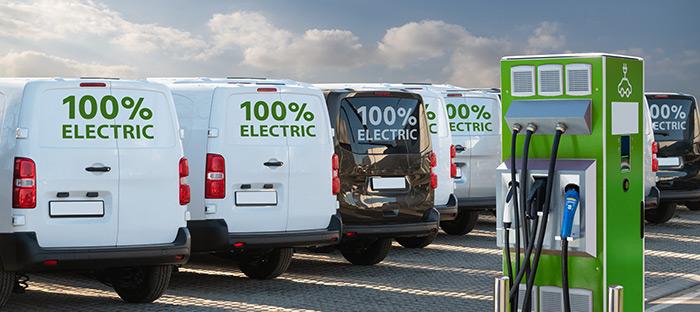 What is automotive telematics?
Automotive telematics is a method that combines GPS systems, on-board diagnostics, telecommunications and informatics ('telematics'), vehicular technologies, and the Internet of Things (IoT) for the ongoing monitoring of a motorised fleet. Deploying automotive telematics enables fleet managers to collect critical data and gain deeper insight into their fleets, ultimately improving the efficiency and safety of both vehicles and drivers.
Recent statistics all point to the growing adoption of automotive telematics, too. According to a recent report by the RAC, the global automotive telematics market is poised for rapid growth over the next few years, with 88 per cent of new vehicles (roughly 104 million) expected to have some form of connectivity by 2025. The market is experiencing particularly strong growth in the UK, where 63 per cent of respondents to a recent RAC survey indicated that in-vehicle technologies such as dashcams, emergency braking, and telematics play an important role in ensuring safety while driving.
Meanwhile, the proliferation of electric vehicles has led to a new wave of telematics solutions designed specifically to address the challenges of transitioning to and operating an EV fleet—electric vehicle telematics.
Electric vehicle telematics is simply the application of automotive telematics systems to electrified fleets. EV telematics enable fleet managers to run more efficient fleets and adapt to the inevitable changes that are coming with the proliferation of electric vehicles.
What information does electric vehicle telematics provide?
EV telematics solutions automatically provide fleet managers with a wealth of information, data, and deep insights about electric vehicle fleets.
This includes everything from current battery levels and discharge rate to the routes that your drivers are taking and how well your drivers drive: hard braking, current and average speed, and fast acceleration are just a few of the many driver metrics that you can track by using a robust electric vehicle telematics solution.
As we will explore in more detail later, it is also possible to use an EV telematics system to set up automated alerts that notify fleet managers of speeding, breakdowns, potential accidents, critical battery levels, and unauthorised driving, among other things.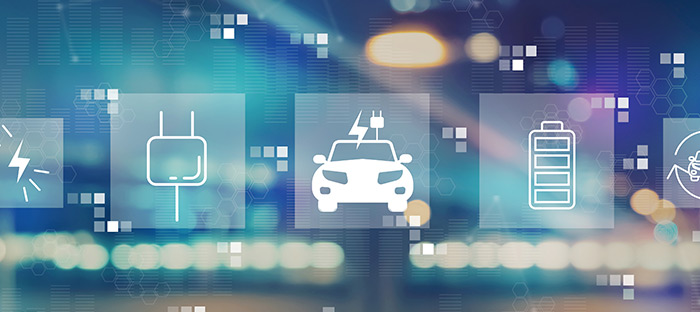 How do EV telematics systems work?
EV telematics work using a combination of cloud-based platforms and in-vehicle hardware. Although no single telematics system is the same, the hardware component will typically be hardwired into a vehicle or connected to the on-board diagnostics port where it collects and relays data to the cloud-based platform via a cellular Internet network.
This data can then be accessed by fleet managers through an online dashboard. Here, they will be able to review in-depth reports concerning performance metrics both over time and in real-time and use it to inform key decision-making and efficient route planning, among other things.
Key benefits of using EV telematics
The benefits of transitioning from petrol and diesel to electric vehicles cannot be overstated. In 2030, the sale of new fossil fuel-powered vehicles will be banned in the UK. This will therefore cause petrol and diesel-powered fleets to become a less viable, and eventually an impossible, option.
Making the switch now allows fleet managers to get well ahead of the inevitable and come out on top of slower competitors, and using EV telematics alongside their electric vehicle transition unlocks a wide variety of benefits on top of raw long-term cost savings.
Monitor driver behaviour
While your drivers are your biggest asset, one bad apple can be a huge liability and threaten your business's future. With EV telematics, you can see how your drivers are doing without relying on people to respond to "How's my driving? Call this number!" phone calls.
That's because EV telematics systems continuously gather data about fleet vehicles and provide fleet managers with a complete, real-time, 360-degree overview of how drivers are behaving behind the wheel. The data that is collected can include routes taken, distance travelled, driving time, average vehicle speed, harsh acceleration and braking, and exceptional events such as breakdowns and accidents, and put it all at your fingertips.
This level of insight gives fleet managers the chance to step in and take remedial action where inefficient, negligent, or dangerous driver actions are identified, thus reducing vehicle wear and tear, helping to prevent accidents from taking place, preserving battery life, and unlocking lower insurance premiums over time.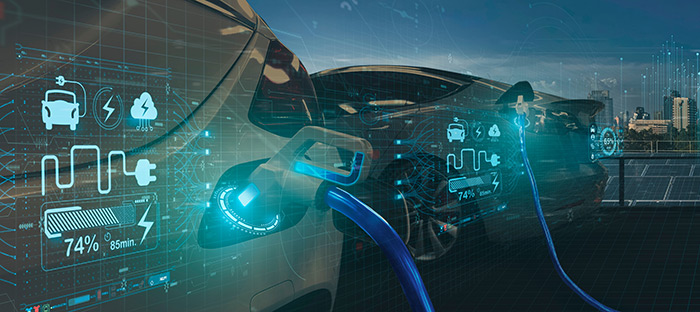 Plan the most efficient routes
Even the most basic electric vehicle telematics systems include GPS and real-time map tracking.
Not only does this help fleet managers deter theft and keep a watchful eye over their vehicles for the provision of critical information such as progress updates, but it also enables proactive route planning. This enables fleet managers to plan data-led routes that get the most out of their vehicles' batteries and include charging infrastructure along the route, mitigating challenges such as range anxiety.
There are many other benefits of real-time tracking, too. These include avoiding accidents, traffic jams, congestion, and maintenance work, and this functionality often comes as part of a standard EV telematics package.
See how much range vehicles have remaining
Even the best route planning in the world cannot account for every eventuality. Sometimes the unexpected can happen, throwing a huge spanner into the works and forcing your drivers to take a less efficient and/or much longer route. For a diesel fleet, this is a relatively minor inconvenience; drivers can simply refuel at a forecourt. For an EV fleet, however, it could be disastrous if drivers cannot find a suitable place to charge up.
This is one of the main reasons why EV telematics is crucial for an electrified fleet. It provides fleet managers with an immediate view of how much range their vehicles have remaining, enabling them to pivot more easily around unexpected scenarios such as delays and detours, for example by planning new routes with charging infrastructure on the fly.
Set up charging schedules and alerts
A big challenge faced by fleet managers when transitioning to an electrified fleet is figuring out how to keep their vehicles charged up. It is something that requires careful planning around schedules, routes, traffic congestion, and environmental factors including elevation, weather, and temperature.
An effective electric vehicle telematics solution such as Trakm8 enables fleet managers to achieve this by using real-time data from the above and other factors. Features include continuous charging updates, the planning of vehicle recharging priorities based on schedules and routes, and pinpointing of available charging stations to allow drivers to select the best routes based on point-in-time charging needs. If a vehicle's battery ever depletes to a critical level, fleet managers will be notified to allow for remedial action.
Receive health alerts
EV telematics systems and their sensors can provide fleet managers with an insight into vehicles and, by extension, overall fleet health through predictive maintenance.
Using the Trakm8 system's cloud-based platform, for example, fleet managers can receive instant insights into things like tyre pressure and oil levels, and receive alerts about potentially faulty parts and battery health. Fleet managers can also use the platform to schedule servicing and maintenance in a way that avoids disruption to schedules and routes.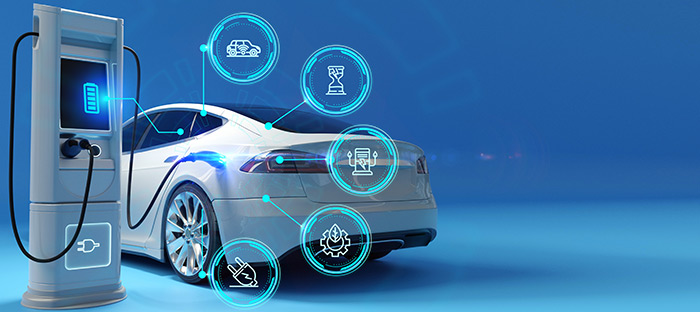 A joint solution for electrified and fuel-powered fleets
The transition to all-electric vehicles is well underway, particularly in commercial sectors that are coming under mounting pressure from consumers to be greener. However, it will be quite some time yet before fossil fuel-powered petrol and diesel fleets are entirely replaced by electric alternatives.
Although many organisations have begun this transition—with a great many more planning to do so—it is unrealistic to expect that these will replace the entirety of their fossil fuel fleets with electrified alternatives overnight; their transitions will be gradual over the course of several years, with most organisations operating a hybrid fleet of fuel-powered and electrified vehicles.
Trakm8 is the first telematics solution on the market that has been optimised for both electric vehicles and fossil fuel-powered fleets. It provides fleet managers with full insight into their entire fleet, helping them monitor both fossil fuel-powered vehicles and EVs from a single portal.
Find the right electric vehicle telematics solution for your fleet of vehicles
The experts at Trakm8 can help you to find and build the right solution for your business.
Is your fleet ready for the transition to Electric Vehicles? Find out today by completing the free Electric Vehicle Suitability Assessment tool from Trakm8.
Get in touch with our team today and we'll learn all about your business, fleet and daily operations to decide what telematics devices would provide the most value to you.