Insight 2.8.2 Release Notes
We've recently launched the latest version of Insight (2.8.2), this is now live for all Insight customers. We've been busy adding several exciting new features and enhancements in this release. Here are the highlights:
Incident workbench enhancements
A number of enhancements to the incident workbench feature are included with this release. The feature now allows users to link driver submitted incident reports to the workbench so that you can review and validate the report details alongside the telematics data.
Users can now also review integrated camera files within the incident workbench. The incident screen allows users to request a hyper-lapse of still images using the journey profile bar selection, this means that users can view camera images in line with the telematics unit's GPS plots in order to better understand the build-up and characteristics of an incident.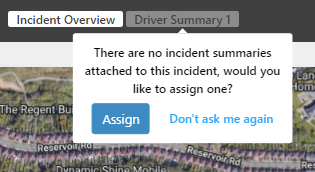 Compatible Insight tiers: Business & Enterprise
Allow run and order table to have a fixed date selection
Insight optimisation users can now applied a fixed date selection to the planned routes and orders table widgets. This ensures that the data displayed in each widget is pinned to the requested date range and this cannot be altered by changing the calendar date selector via the toolbar. 
Users can enable this setting either when adding the widget to a new perspective or by editing their existing widgets.

Compatible Insight tiers: Enterprise (with Optimisation), Optimise & Dispatch
Driver League table apply via tag
This enhancement means that driver league tables can now be applied to tags rather than just depots which allows users have more flexibility when creating a league to monitor performance. Users can now include drivers from various depots within the organisation as long as the drivers share the same tag. This is particularly helpful when monitoring the most at risk drivers or 'low performers'. 
Compatible Insight tiers: Business & Enterprise
Add cost of charging rate input to UI
Use of Trakm8's new cost of charging feature allows users to quantify their fleet's EV charging activity into pounds and pence. This is done by adding a bespoke charge cost rate to your organisation which is used alongside the KwH data that we read from the vehicle's CANbus, this is  then used to calculate and report on a monetary cost of each event.
Users can find the relevant field to update this information via the company settings menu within the administration screen. 
Compatible Insight tiers: Business & Enterprise
Case widget time period
Users can now configure a fixed timeframe to be applied to the case management tool in order to omit cases that have been triggered outside of the set time. This allows users to view and manage relevant cases in a more efficient manner.
The case management tool can still be grouped by status, priority and other reference points in order to help focus the results even further.
Compatible Insight tiers: Business & Enterprise
Perspective Admin list view Insight
New 'perspective' administration menu allows users to view and manage the perspectives within their organisation from a centralised menu. Admin users can create, rename and delet perspectives that have been created within their organisation.
This menu also displays the 'visibility' that is associated with the perspective and allows users to update the perspective's share settings from the same screen.

Compatible Insight tiers: Business & Enterprise