E.ON driver and road safety advocate scoops up Trakm8 safety award
Trakm8 has announced a winner in its search to find Britain's Road Safety Hero, rewarding drivers who have gone above and beyond to keep Britain's roads safe.
A long-time supporter of Brake, Trakm8 partnered with the road safety charity to search for Britain's Road Safety Hero to mark this year's Road Safety Week (14 – 20 November).
This year's winner was announced as driver Sherry Cox, a smart meter technician from energy supply and solutions provider E.ON. Sherry was nominated by her manager Lance Goodenough for her efforts and commitment to promote road safety not just within her immediate team but across E.ON's wider workforce too. Sherry will receive a £250 Amazon voucher as the Road Safety Hero Award winner.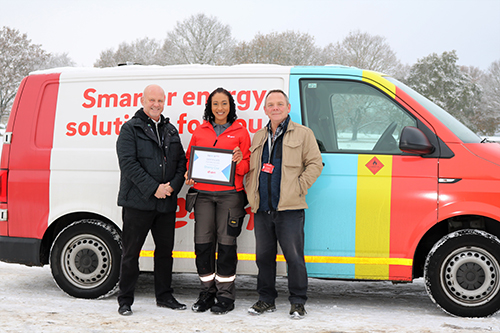 Lance, safety lead and line managers Kevin Massey and Richard Morris who have managed Sherry for 3 years said ''we are all so incredibly proud of Sherry and delighted that her determination to practise and encourage safe driving has been recognised with this award''.
"Sherry installs smart meters in our customers' homes and businesses across a busy inner-city patch, which requires real awareness and attentiveness when driving between jobs. She's also known for her vigilance in carrying out vehicle checks and upholding the maintenance schedule.
Sherry Cox said: "It's a real honour to be named a Road Safety Hero and receive this award. I've always considered part of my job to take personal responsibility for my driving as well for the condition of the vehicles I use. Road traffic incidents can have a terribly high cost, both in terms of their impact on the people involved and the business. If it's within my power to take any steps   that make an accident behind the wheel less likely, and helps keep others safe, of course I will, just as I hope any other responsible road user would. It's such an important message that I'll keep reminding my colleagues too."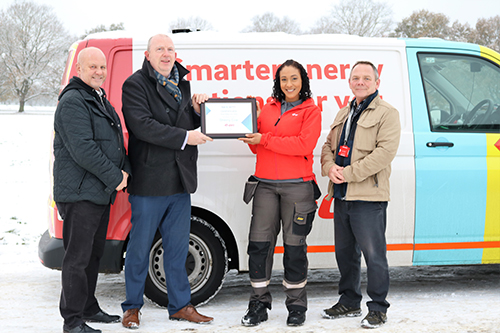 Nick Guise, Group Marketing Manager, at Trakm8, said: "We have been inundated with entries for the Trakm8 Road Safety Hero award, as we were when we set up the Trakm8 Road Safety Hero Award last year. It's great to see that this is a topic that is getting the attention it deserves and that drivers are being recognised for their hard work. "Sherry stood out as someone who really personifies this year's Road Safety Week message, 'Safe Roads for All'. She has clearly and consistently worked to keep others safe and promote the right attitudes and practices in other drivers. This type of attitude goes a long way to making a difference to the level of danger posed by roads in the UK. Sherry is a credit to E.ON, and the industry as a whole."