Please ensure your camera Firmware is up to date – This is automatically done via the RoadHawk software for your camera model.
* SAVE ANY WANTED FOOTAGE FIRST *

We recommend exploring the card (Windows explorer / MAC Finder) and saving any wanted footage before proceeding because this format process will wipe the SD card of all data.
Software Format – HD-2, HD & DC-2
Great for routine maintenance of the card and after long recording sessions,
Power down and remove SD card,
Run the RoadHawk Software.
Wait for files to load.
Choose Format SD card option in the RoadHawk software and select relevant card size.
Close the RoadHawk software before ejecting the SD Card
Format Fail Solutions:
Check card lock tab on SD card
Perform a Manual Full Format
How to perform a Full Format
Windows format tool:
1: Go to your Start Button (bottom left of windows) and click on "computer" or "my computer"
(hold Windows key + press E for Windows 8 users and above).
2: Put the SD Card into your computer by using an SD card reader
3: When you plug the card in you will see a box like this:

4: Right click on the icon and click on "Format" to open the tool.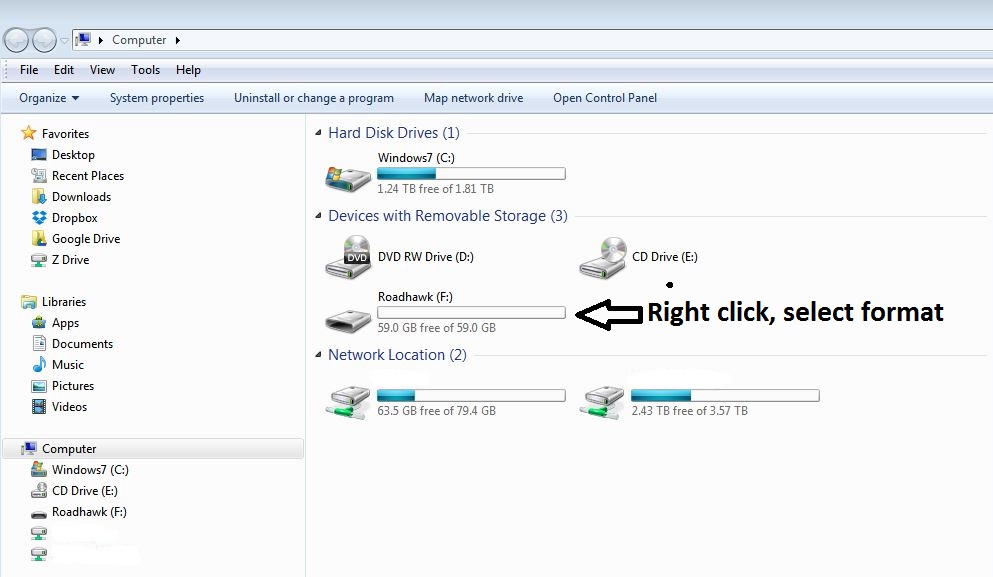 5: Ensure that the settings are correct for the card you are formatting and un-tick the quick format.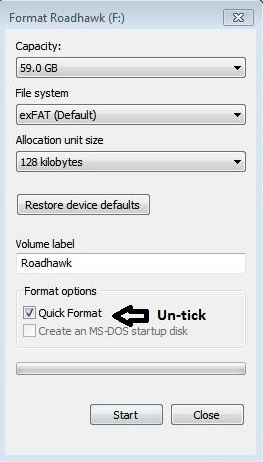 32GB and Below
System fat32
Allocation 32K
64GB and Above
System exFat
Allocation 128K
Un-tick quick format.
…while a quick format is handy, it does not always remove bad data which a full format can.
Please be aware that a slow format will take longer on larger SD cards and will also depend on you PC's specifications
6: Once the SD card has been formatted, put the card back into your RoadHawk camera
Format Fail Solutions:
Press the reset, if available, to refresh the internal memory before placing the card back in the camera.
Check card lock tab on SD card, note if lock is sliding freely or with resistance.
If the windows format tool is unable to perform the format you can try using this tool SD Formatter 4.0
Contact RoadHawk Support for an RMA
Mac format tool:
Do not use Disk Utility
DOWNLOAD AND INSTALLATION
Go to https://www.sdcard.org/downloads/formatter_4/index.html and follow the instructions to download and install the program.
HOW TO USE:

1: Plug the SD card in your computer
2: Launch the SD Card Formatter. It should look like below: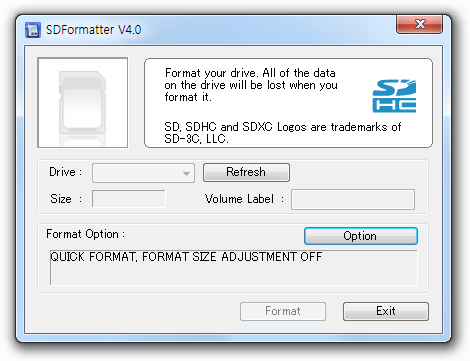 3: Please ensure that the Drive is pointing to the one belongs to the memory card. 
4: Click on Option. The following window will open: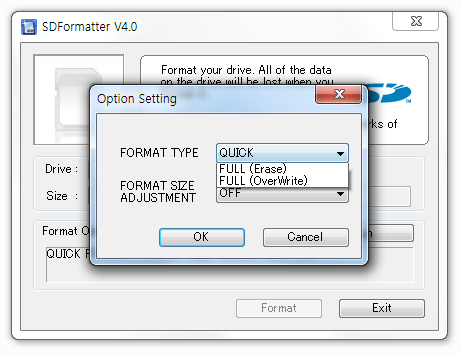 5: Select FULL (OverWrite) and press OK. (Compared to a QUICK Format, a FULL OVERWRITE will take a longer time to format the card but this will ensure proper full formatting).
6: Leave format adjustment size off
7: Click on Format.