Insight Business
A complete 360 view of your fleet on a single platform helping to reduce costs, improve safety and stay compliant.
Features include real-time vehicle tracking, driver behaviour scoring, vehicle health alerts, switching between business and private mileage, expense/mileage reports, geo-fences, reminders, alerts, customisable reports, customisable dashboards, and multi-user access.
Real-time Vehicle Tracking
Track your vehicles and drivers in real-time through our user-friendly web portal or app. View all vehicles on a live map – whether they are parked up or on the move – ensuring you know where your vehicles are located, at all times. Finding your nearest vehicle is as simple as clicking on a map.
Vehicle Health Alerts
Monitor your vehicle's health remotely with Trakm8 Insight. When there are issues, you'll receive alerts by email or in your Insight inbox. Our innovative Connectedcare solution even alerts you to engine warning lights, saving your business expensive repair bills.
Driver Behaviour Scoring
Your business's reputation is important, so with Insight Business, each journey is given a driver behaviour score in the portal or app. The score from 0-100, is based on speeding, harsh braking, and cornering events. Receive emails and inbox alerts and reports based on scores.
Customisable Reports and Dashboards
Insight Business features not only ready-to use reports, but the ability to create bespoke and scheduled reports to fit with your business requirements. Design your own perspectives (dashboards), to fit in with your business needs. Choose from a wide range of widgets to create your own unique dashboard.
Business/Private Mileage
Mileage reporting made easy. Help your drivers remain HMRC-compliant with easy business/private mileage categorisation, which is ideal for P11D mileage claims and management. Drivers can change the status of historic journeys via the Insight portal and app.
Create Geo-fences
Create Geo-fences (virtual boundaries) and receive reports and alerts when your vehicles enter and leave them.
Pricing
Insight Business costs just £12.99+VAT per vehicle per month, or £142.89+VAT per vehicle per annum when paid in advance (get 12 months for the price of 11). There's a one-off activation fee per device of £25+VAT.
Insight Business devices ordered online are supplied on a rental basis, click here to view the Trakm8 Rental Terms and Conditions.
No long-term contracts*
Online Insight Business subscriptions which are paid monthly & annually are supplied on an initial twelve-month contract*.
* Only applies to contracts signed up online
Connect 330 – OBD Plug-in Vehicle Tracking Device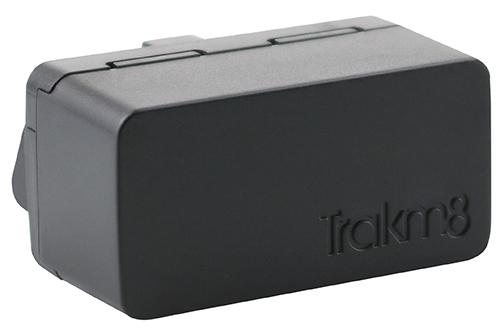 One of the smallest OBD tracking devices in the world, the Connect 330 plugs into your vehicle's OBD (On-Board Diagnostics) port. When combined with the powerful functionality of the Insight portal and app, the Connect 330 gives business owners and fleet managers visibility over their vehicles.
Benefits of using the Connect 330
Easy to install – locate your OBD port and push in the device. No tools or wiring required!
Switch between business and private mileage within the Insight portal or using the Insight mobile app.
Easy to switch between vehicles
Compatible with most cars and light commercial vehicles
Normally hidden away behind a panel in the vehicle dashboard