Trakm8's Insight Optimisation software can easily complete route planning for multiple drops as well as single drops. As long as all fleet and task data has been entered into the system correctly, Insight will optimise routes based off: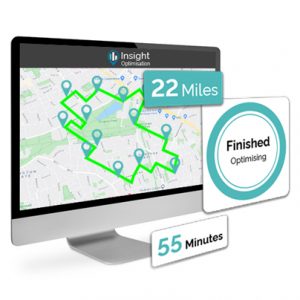 Fleet size
Delivery location
Capabilities
Number of deliveries/jobs
Location of deliveries/jobs
Specific customer requirements
By using a fully integrated fleet optimisation system, such as Insight Optimisation, across all depots, you can reduce costs by reducing the need for manual fleet management on each delivery. Through the use of intelligent mapping software, Insight Optimisation can provide real-time traffic flow measurements which helps create optimised routes that avoid congestion and optimise travel time. Therefore, as a company, you will see fleet mileage decrease and fleet productivity increase.
Fleet Manager Benefits
Our Insight Optimisation software provides benefits such as:
A decrease in operational costs
A decrease in manual fleet management tasks
A decrease in fuel costs
A decrease in late delivery costs
An increase in fleet efficiency and productivity
For more information our multi-drop route planning software, such as pricing or where to find a free trial, complete the contact form below or call 0330 311 5157.
Free Trial
Here at Trakm8, we understand how during this crisis it is vital that you manage your fleets as effectively as possible whilst potentially adjusting operations and changes in demand. We want to support businesses by providing you with the latest technology to help maximise your fleet and save costs with free 30-day access to Insight Optimise.
* Free for 30 days – normal price £30+VAT per vehicle, per month.
* Usage restrictions apply
Click here to view a copy of our Free Trial Terms and Conditions.
Click here to view a copy of our Optimisation Terms and Conditions.